Dreaming the Globe in 80 Beats
BREAK!!!!!
Het aankomende concert van Lift – Off Percussion & Entertainment staat gepland op zondagavond 26 Juni in het Parkstad Limburg Theater in Heerlen.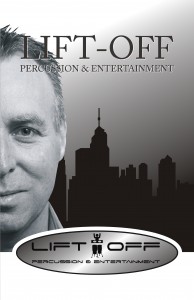 DREAMING THE GLOBE IN 80 BEATS
Leef je Droom, Droom niet je leven !!
Lift-Off Percussion & Combo neemt u mee in het verhaal van Marcel Falize die zijn droom leeft maar tegelijkertijd ook zijn leven droomt.
Een fasinerend verhaal dat tijdens deze muzikale reis over de wereld vertolkt wordt door de Heerlense cabaretier Raymond Clement.
Een voorstelling met veel percussie, futuristische en ouderwetse manieren van  muziek maken. Kortom, een avondje genieten van fantastische en hilarische momenten uit het leven van een wereldreiziger tijdens een muzikale reis met veel bekende maar ook onbekende muziek uit alle wereld delen.
Tickets: KLIK HIER!